Contact Information
Our Location
1333 Meadowlark Lane, Suite 103
Kansas City, KS 66102
Phone:
913-287-4400
Email Address:
lucky@locamphomehealth.com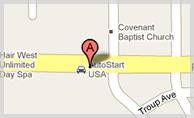 1. Head east on Parallel Pkwy.
toward N 75 Terrace/N 75th Terrace
view map »
About Us
Locamp Home Health Agency is a home care services provider who has established a name as a leading company when it comes to providing assistance for seniors and health-challenged individuals who need assistance with activities of daily living where they live.
More than any other form of health care, in-home care is the most personalized. Its structure allows for professional and compassionate care that is provided by carefully screened and well-trained caregivers, nurses, aides and home care coordinators.
Experience a brand of in-home care services from Kansas' most trusted provider. Locamp Home Health Agency hopes to visit you at home soon. Please set an appointment online.