Contact Information
Our Location
1333 Meadowlark Lane, Suite 103
Kansas City, KS 66102
Phone:
913-287-4400
Email Address:
lucky@locamphomehealth.com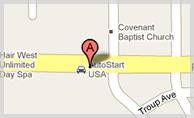 1. Head east on Parallel Pkwy.
toward N 75 Terrace/N 75th Terrace
view map »
Referrals
You are helping Locamp Home Health Agency grow by submitting your referrals. We truly appreciate your loyalty to our services. Your efforts will be well-worth it. Your referrals will be treated with the same outstanding care and attention that you experienced from us.
Please submit the requested information in the form below: