Contact Information
Our Location
1333 Meadowlark Lane, Suite 103
Kansas City, KS 66102
Phone:
913-287-4400
Email Address:
lucky@locamphomehealth.com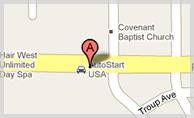 1. Head east on Parallel Pkwy.
toward N 75 Terrace/N 75th Terrace
view map »
Our Services
For many of us, staying at home is the most preferred choice. This is especially true for seniors and health-challenged individuals. We seek ways to be as independent as possible and the only comfortable place that we can be is in our own home.
Locamp Home Health Agency offers complete senior care services and comprehensive health support programs for a wide range of clients.
We enhance the quality of life for our customers through services such as:
All services indicated above are provided by compassionate caregivers who have a genuine desire to make your health easier to manage while you stay in your home. This is where their professional dedication starts and ends.
We hope that a lasting partnership in health management with you will start today. Please get in touch with us to request for home care services from Locamp Home Health Agency. We hope to speak to you soon - 913-287-4400.