Contact Information
Our Location
1333 Meadowlark Lane, Suite 103
Kansas City, KS 66102
Phone:
913-287-4400
Email Address:
lucky@locamphomehealth.com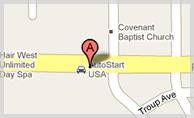 1. Head east on Parallel Pkwy.
toward N 75 Terrace/N 75th Terrace
view map »
Mobility Assistance
Locamp Home Health Agency offers services that are ideal for clients who have physical disabilities that hamper their mobility. We help our clients get around their homes, go up a flight of stairs, move from one room to the other, get up from bed, get up from sitting on a chair and various other mobility tasks.
We believe that mobility is critically important to maintain an active and healthy lifestyle. Maintaining a level of mobility ensures the physical and mental fitness for our clients especially those who have health issues or are recovering from an illness. Keeping an active body helps maintain strength, balance, and even lowers blood pressure. In general, patients who maintain their mobility, even with the help of caregivers, have better moods and are more stable physically, cognitively and emotionally.