Contact Information
Our Location
1333 Meadowlark Lane, Suite 103
Kansas City, KS 66102
Phone:
913-287-4400
Email Address:
lucky@locamphomehealth.com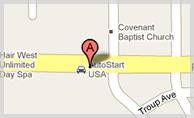 1. Head east on Parallel Pkwy.
toward N 75 Terrace/N 75th Terrace
view map »
Recommend Website
Please recommend the Locamp Home Health Agency website to your friends and family. We are grateful for the opportunity to serve you at home. You may complete the form below to make a recommendation.