Contact Information
Our Location
1333 Meadowlark Lane, Suite 103
Kansas City, KS 66102
Phone:
913-287-4400
Email Address:
lucky@locamphomehealth.com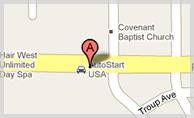 1. Head east on Parallel Pkwy.
toward N 75 Terrace/N 75th Terrace
view map »
A New Way to Look at Home Care
At Locamp Home Health Agency, we believe that you should be in control. We want you to be the biggest influence when it comes to developing a home care plan. Our new way of looking at home care is giving clients the command over their health. Through our services, we support your goals when it comes to mobility, nutrition and recreational activities.
All throughout the provision of services, we coordinate care with your physician. We want to make sure that the care you receive is aligned with their recommendations for your health management.
We support independent living in your home. You can achieve this for yourself. Ask us how!
Call 913-287-4400! Locamp Home Health Agency looks forward to the opportunity to serve you at home.